Wining and Dining Panorama Style!
OK, so we all know (don't we?) that Panorama has some of the best skiing on the planet…aaah Taynton Bowl. But what is not as well known is their excellent dining and après scene, a host of splendid eatery options surrounded by the spectacular backdrop of the Purcell Mountains…it doesn't get better! So, below is a comprehensive insider's guide listing some of the best eats and recommendations that Panorama has to offer.
Restaurant ElevenFIFTY
Breakfast / Lunch / Dinner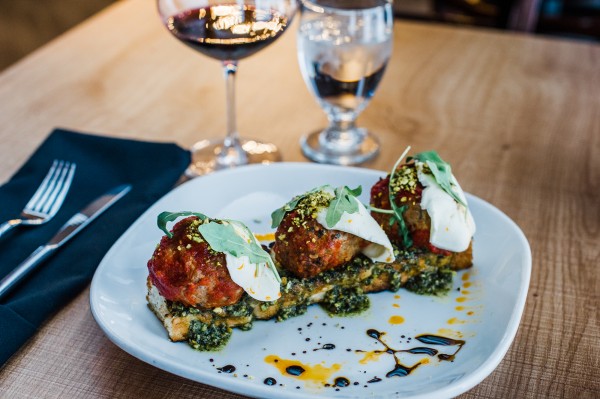 If you're searching for the ultimate homemade pasta and pizzeta (gourmet flatbread pizza), this is your spot. Recently refurbished, this is casually elegant dining perfect for the whole family. The best seat in the house is right next to the beautiful tall stone fireplace in the centre of the room, and the comprehensive wine list and fine selection of cocktails, doesn't disappoint. The restaurant also hosts a daily buffet breakfast with omelets made to order and all your usual favourites.
Restaurant ElevenFIFTY is located in the heart of the upper village and is open daily from 8 AM.
MUST EAT: Smoked salmon linguine carbonara
MUST DRINK: Hugo
Choppers Landing
Dinner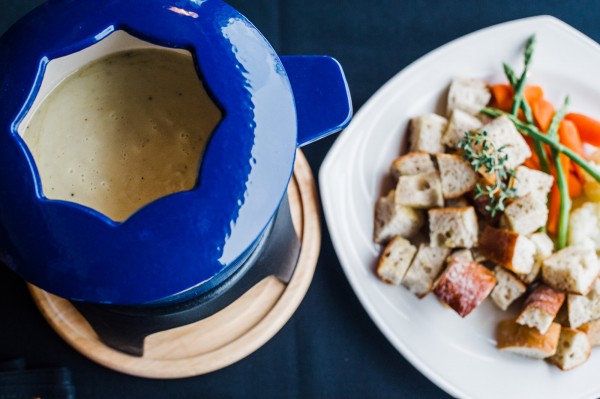 Go a little higher this winter and treat yourself to a meal over hot stones at the RK Heliplex. Out front you'll see Coldstream's helicopters tucked in for the evening just waiting to take flight the next morning while the rest of the village twinkles with lights beneath the night sky. This rustic log cabin restaurant with a European inspired menu provides a variety of different types of fondue and tableside hot-stone cooking that will leave you craving another visit.
Choppers Landing is open Friday – Sunday 5 – 9PM.
MUST EAT: Chinoise Fondue
MUST DRINK: Pinot Noir
Picnic Café
Breakfast / Lunch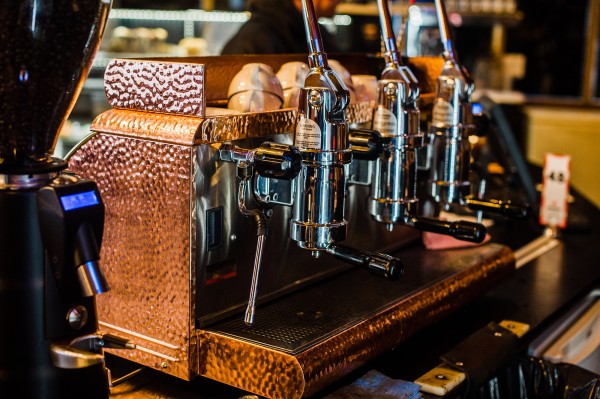 Located at the base of the Mile 1 chairlift you can grab and go or stay and warm up at the Picnic Café.  A small selection of hot menu items is offered, plus soup, ready to go sandwiches, baked goods and locally made donuts and coffee.
Picnic Café is open daily from 8 AM.
MUST EAT: Breakfast Wrap
MUST DRINK: Dirty Chai Latte
CABIN Smokehouse
Dinner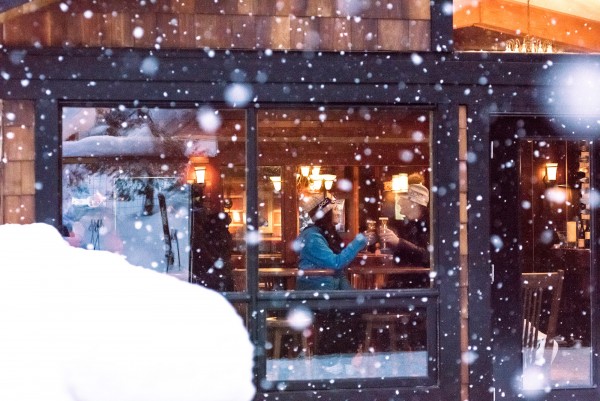 Located just past the main thoroughfare of the upper village, CABIN Smokehouse is the coolest place on resort for dinner and drinks. The cozy, wooden interior with its eclectic décor, communal seating and welcoming vibe pairs nicely with a well-considered wine selection and delicious menu featuring a variety of in-house smoked meats, their speciality.  For something a little different put your mind to the test at adult only trivia on Sundays.
CABIN Smokehouse is open daily from 4 PM.
MUST EAT: The Tray
MUST DRINK: Aperol Spritz
T-Bar & Grill
Lunch / Dinner / Nightlife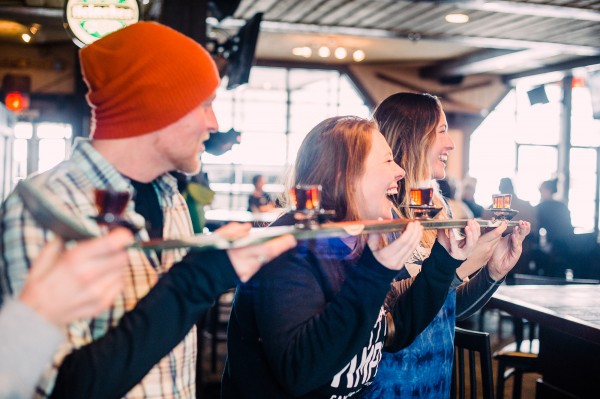 Because who doesn't love après ski? T-Bar & Grill is the main place to party the night away or fuel up on burgers and pints. For lunch and dinner T-Bar boasts a menu full gourmet pub fare. Meet the gang at the bottom of the Mile 1 chairlift and cheers to a wicked day on the slopes. For late night entertainment, T-Bar & Grill hosts regular live music performances, DJs and events. This place is always lively. Musical Bingo is on every Wednesday night and you must give it a go!
T-Bar & Grill is open daily from 11 AM until late.
MUST EAT: Avocado Fries
MUST DRINK: Old Fashioned
Cliffhanger Restaurant
Snacks / Lunch / Dinner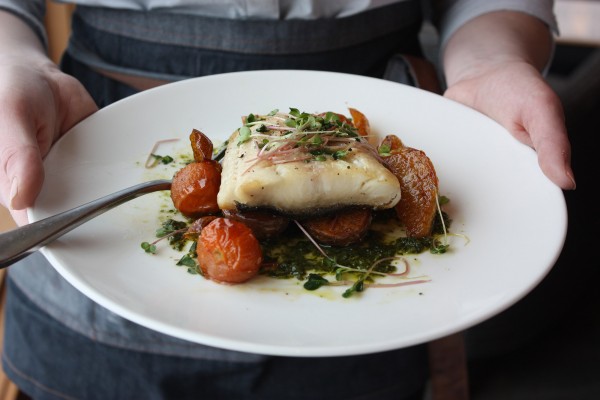 Overlooking the beautiful snow-covered expanse of Greywolf Golf Course, Cliffhanger Restaurant has a menu bursting with flavour. You'll enjoy gourmet dining beside ceiling to the floor windows as you take in views of the surrounding Purcell Mountains. The Restaurant is located at the Greywolf Clubhouse, beyond the treeline of the Sunbird chairlift. You can ski in and out for lunch or drive over for dinner. Cross country skiers and snowshoers are also welcome. Cliffhanger's Snack Shack is open for the winter for a quick bite to eat on the run or stop and sit around the outdoor fire.
Cliffhanger Restaurant is open Wednesday to Sunday 11AM – 9PM.
MUST EAT: Braised Short Rib
MUST DRINK: Espresso Martini
Jackpine Pub
Nightlife
Quaint and cozy with a distinctly laid-back local's vibe the Jackpine Pub is hidden away in the lower village. Enjoy a game of pool, darts, or even a board game as you sample a selection of local draught beers and seasonal cocktails. There is barely a street sign for this tucked away drinkery which makes it the perfect escape from the late night crowds of the T-Bar & Grill. Things are kept simple here and the same goes for the menu which is provided by Thunderbird Pizza, right across the street. Don't miss Sunday night Trivia or the Wednesday pool comp.
The Jackpine Pub is open Wednesday – Sunday from 5 PM.
MUST EAT: Deep fried pickles from Thunderbird
MUST DRINK: Local beers on tap
Mountain Outfitters Cappuccino Bar
Coffee / Grab & Go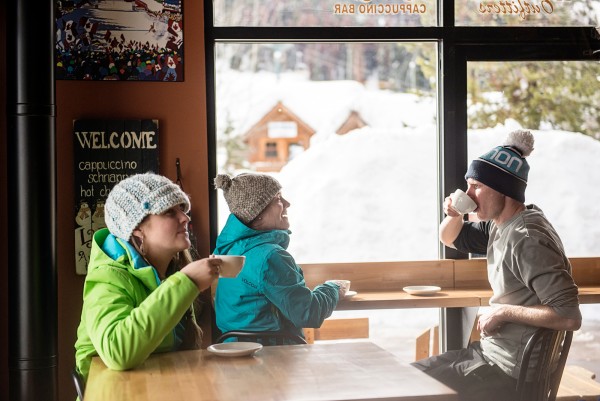 There's nothing quite like coffee conversations in this little gem.  Start your morning with a chat about recent snowfall or the best spots to hit up on the mountain while you get your equipment tuned to perfection. Once voted the best smelling rental shop in Canada by Ski Canada Magazine, and that is the beauty behind this unique location. Coffee in one hand, confidence in the other. After all, local ski techs know best.
The Cappuccino Bar is open daily from 8 AM.
MUST EAT: Daily baked goods
MUST DRINK: London Fog made with almond milk
Thunderbird Pizza
Dinner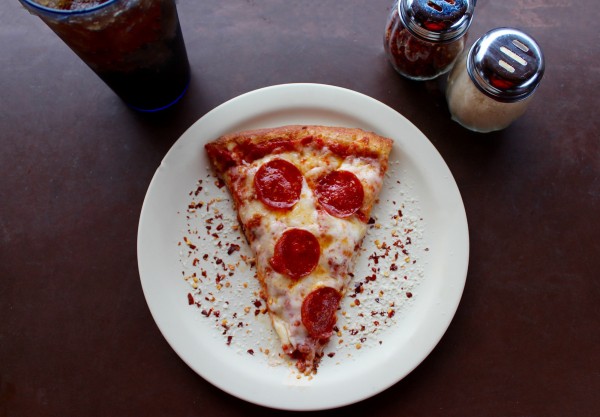 If at first you don't succeed, order pizza. Hand rolled dough and housemade sauce, these North American style thick crust pizzas are heavily loaded with goodness. With names like Meat Sweats you know you're in for some serious comfort food. It's pick up only but service is speedy and these pizzas are the perfect end to a big day of shredding or a long day of travel.
Thunderbird Pizza is open Wednesday to Sunday from 4:30-10 PM.
MUST EAT: Northern Lights Pizza
MUST DRINK: Pick up a bottle of BC wine or some local Arrowhead beer from the General Store next door.
The Great Hall
Breakfast / Lunch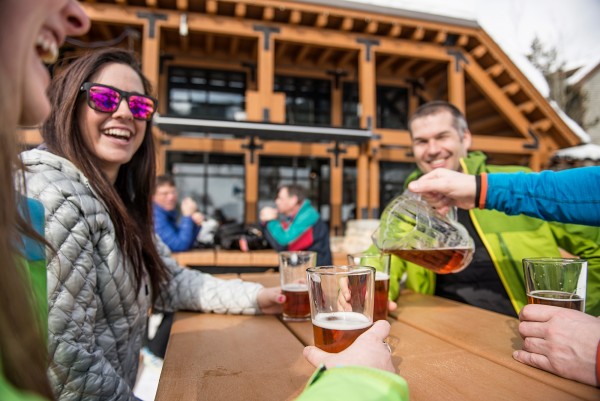 Picture this; soaking up the sun with your favourite people while aiming for the greatest goggle tan of the season. The sun is shining and the music is bumping right at the base of the mountain. Oh wait, this is real life! On warm bluebird days you won't want to be anywhere else. You may hear of this cafeteria being referred to as the day lodge and that's essentially what it is. Somewhere to stop in for a fast and quick meal before getting right back on the lift to hit the slopes for the afternoon. Satisfy the biggest hunger and fuel up on a classic burger or stone oven pizza. Grab a picnic table outside on the patio for a true ski resort vibe.
The Great Hall is open daily from 8AM-4PM or later if it is sunny and warm outside.
MUST EAT: Stone Oven pizza
Summit Hut
Lunch / Après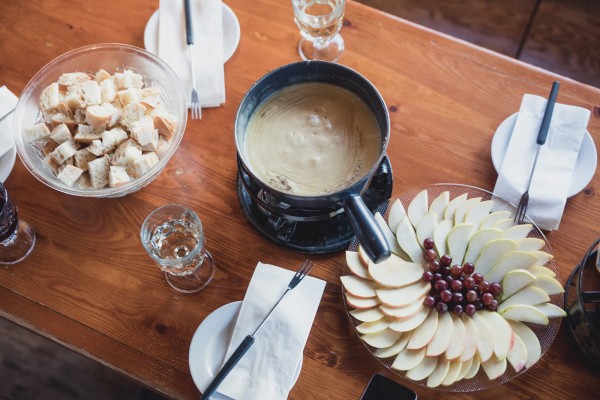 A warm welcome with a brew-tiful selection of specialty coffees and outstanding views of Taynton Bowl. Give the local bratwurst and Ray's famous meat or vegetarian chili a go. To get the ultimate mountain experience, expose your palate to a traditional cheese and chocolate fondue with a twist. You'll fly to the summit with RK Heliski for this uniquely Panorama après activity of heli-fondue. Once spring rolls around, you'll want to be sunbathing outside on the summit's patio! Reservations for heli fondue must be made in advance. See the website for more information.
The Summit Hut is open daily from 10 AM.
MUST EAT: Ray's famous chili
MUST DRINK: Toblerone specialty hot chocolate
Mile 1 Hut
Lunch / Après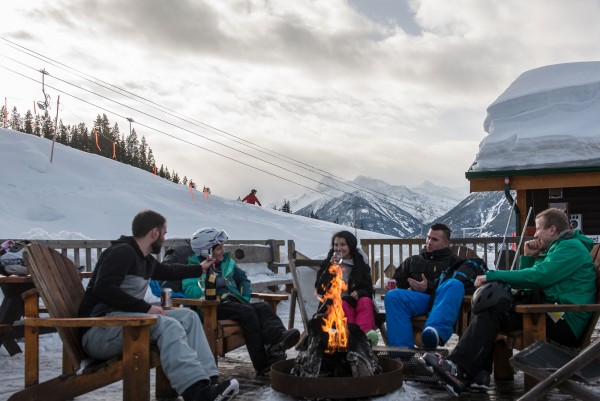 Once you unload from the Mile 1 Express you will see this cabin. Enjoy a cappuccino or some cold beers and take in the amazing views from inside or outdoors on the massive deck with a fire pit in the centre. Food is available during the mountain's hours of operation and the menu is great. Take your après ski one mile further as you arrive with several friends and dig into cheese and chocolate fondue following an unforgettable ski down under the lights. Thursday and Friday evenings they offer a special snowcat accessed three-course fondue, or on Saturdays take the chairlift up during night skiing. Reservations must be made in advance. See the website for more information.
The Mile 1 Hut is open daily from 9:30 AM.
MUST EAT: Bison burger
MUST DO: Après Ski Fondue
Elkhorn Cabin
Lunch / Après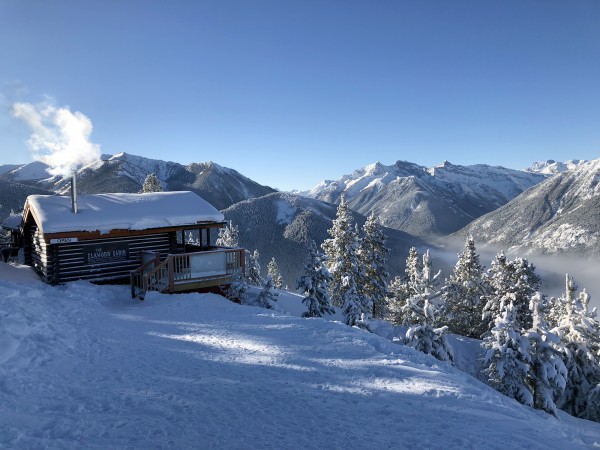 The views here are incredible, perhaps the best on the mountain. This historic cabin was pulled up from the village by snowcat and perfectly placed facing North at Mt. Nelson, South toward Paramount and Paradox Peak, and West down the valley at the big and beautiful Monument Peak. Cozy up next to the great big window with a glass of mulled wine. Racletting is a Swiss tradition that Canadians can't seem to get enough of. On the menu is a delicious selection of meat and cheese. Similar to fondue, just heartier. You can also book a table here for the ski-in, snowcat out raclette on Thursdays and Fridays.
The Elkhorn Cabin is open daily from 11 AM.
MUST EAT: Raclette
MUST DRINK: Mulled wine
MUST DO: Raclette & lamplight ski-out (only available on Saturdays)
Snowlicious Mobile Kitchen
Lunch / Après
When your legs are shot and your stomach is grumbling, Snowlicious Mobile Kitchen serves up hot alfresco dishes and cold brews that are mitten approved. This roaming food-truck snowcat is the first in Canada and the perfect place to grab lunch between powder runs, from Goldie Plateau to the bottom of Sun Bowl.
MUST EAT: burritos
Getting there
Daily flights from Australia to Calgary with a 3.5 hour shuttle transfer to Panorama.
Contact Blue Powder Travel for more insider information on the best deals, accommodation and dining for Panorama this winter!